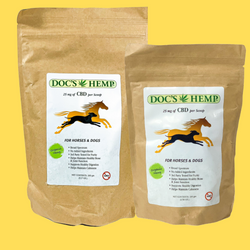 Doc's Hemp
Doc's Hemp - Wholesale
Doc's Hemp with CBD, 260grams is packaged for horses and large dogs, we have found hemp powder to be the most cost-effective way of providing hemp with CBD to them. Our hemp powder is produced on small sustainably managed farms in Vermont. It is grown with loving care and attention to detail by small farmers. We pay strict attention to quality control to ensure we have full spectrum pure cannabinoids, terpenes, and other nutritious compounds preserved in the final product. This ensures that our product is GMO-free, pesticide-free, solvent-free, and contains THC levels well below the federally mandated 0.3%.  
The powdered product is freshly made from the natural plant material so it may contain a few seeds and stems but you can be assured there are no fillers of any sort.  The oils contain only organic MCT oil and CBD oil.
All of the hemp is registered with the Vermont State Department of Agriculture.
Doc's Hemp can be fed to farm animals. 
Product Description
Doc's Hemp is a CO2 extract of organically grown hemp. Using CO2 means that this product is absolutely pure, with no solvent residues, no heavy metal residues, and no pesticide residues.
Doc's Hemp powder is extracted from the whole hemp plant, grown domestically and legally in Vermont. The oil is made from the same hemp plants. The full spectrum cannabinoids are extracted with CO2, which leaves the CBD's behind on the plant material. The powder flavor is mild and tolerated well by most horses and dogs, the oils by most animals. The Hemp meal contains 20% plant protein, 30% fiber, Cannabidiol (CBD), and also contains Cannabigerol (CBG), Cannabichromene (CBC), as well as terpenes, flavonoids, and essential amino acids.
Doc's Hemp contains well below the legal level of THC (almost undetectable) which makes it safe for all animals, and especially for dogs who are very sensitive to the adverse effects of THC.
Doc's Hemp is a high potency product with a guaranteed analysis of the cannabinoid content. Since horses are larger and require a large quantity it is important to know what you are getting, so you can see true results.  We proudly give full disclosure of exactly what this product contains.
Powder Administration Instructions (horses, larger dogs):        
Horses: Begin with 1 scoop (included) (25 mg ) twice a day for a full-sized horse. 1/2 scoop for a medium pony and 1/3 scoop for a mini. you can start with less if your horse is sensitive to new products.
After 7-14 days, adjust the amount up or down depending on the results you are seeing. Make ¼ scoop incremental adjustments. Some horses will do best on 2 full scoops twice a day, while others do well with ½ scoop. In some cases, lower amounts will be effective.
130 gm bag will last about 1 month at the standard serving size, approximately 60 scoops per bag
260 gm bag will last about 2 months at the standard serving size,  approximately 120 scoops per bag
Dogs: Use the powder for the larger dogs. (for small dogs it will be easier to use the oils).
Give 0.1 mg/lb twice daily to start. This is the same as about 1/4 teaspoon for each 40 pounds of body weight of your pet. See the chart below for the best amounts to give.
If after 7-14 days you are not seeing the results you are looking for, then you can increase the amount you are giving to the Medium Level 
If that still is not sufficient to create the desired results, then increasing the amount to the High Level is recommended
For the dogs, please use a teaspoon to measure accurately, 11 mg/tsp

 Dogs weight in pounds

 LOW   (Serving Size)   TEASPOON

 MEDIUM (Serving Size) 

 TEASPOON

   

 HIGH (Serving Size)

 TEASPOON

 

 

40

shallow  ¼

shallow ½  

heaping ¾

50

¼ 

 ½

1

60

heaping ¼  

heaping ½

1 1/4

70

Shallow 3/8 

¾

1 1/2

80

3/8

Heaping ¾

shallow 1 3/4

90

Heaping 3/8

7/8

1 3/4

100

½

1

Shallow 2

125

heaping ½

1 ¼

2 ¼

150

5/8

1 ½

3

175

 ¾

1 ¾

3 ½  

200

Heaping ¾

Shallow 2

4
This product is not available for sale or shipment into California, Utah, Idaho, Iowa, North Dakota, and Nebraska.